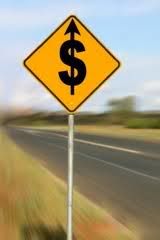 As the new year begins, U.S. airlines has started the first price increase of 2012. Transfer America discovered an article on MSNBC, that reports of Delta Air Lines increased round-trip domestic prices by $20 on longer-haul routes. Once they increased their prices, major U.S. airline competitors matched the increase.
After Delta's price increase, Southwest and Frontier matched the price Wednesday night while American, United/Continental and U.S. Airways raised their ticket prices on Thursday.
In 2011, airlines tried to raise ticket prices twenty-two times but out of that twenty-two only nine were successful. This price increase is the first attempt for 2012.
The CEO for FareCompare.com, Rick Seaney, stated, "I think airlines will continue to try to hike domestic airfares every couple of weeks with limited success. Carriers have found it difficult to raise prices the past few months amidst higher fuel prices as they must fill empty middle seats with consumers who push back at the slightest increase."
This price increase was made just before the new rules from U.S. Department of Transportation come into play. On January 26, airlines will now be required to include all government taxes and fees in their advertised prices, which come add up to 20 percent.
Southwest claims that the price increase is to make up for the fuel increase. However, U.S. carriers have also increased ticket prices when the European Union created a law requiring all airlines to pay a fee for carbon dioxide emissions. These fees seem to be trickling down to the average consumer in hopes of saving revenue.